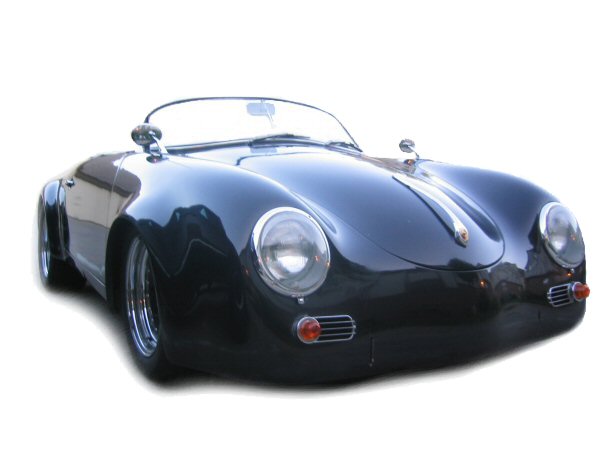 (Click above photo for a video)
Front with top up... side and rear are loose as I don't think the contour of the rear support bar is correct. The top is also dingy with age and I would probably replace it or just never use it again :) --- It is currently not mounted in the car.

Showing the rear with the tonneau cover installed... There are holes for a roll bar option which is not installed. The trunk fits well but is a bit loose and rattles a little bit without a rubber seal installed.

Rear Showing top up... Note - it is not snug... I do have the side windows.

Waxing.. shows current tonnau used as half tonneau

Rear angle profile.

Car from far above.

Showing side profile. Wheel gap is perfect.

Front low angle showing stance

Showing hood alignment and general beauty of the front end.

Stance and exaggerating how low it is. Truck is lifted with 33" tires.

This is what people do when you go to a VW show.

This picture is only to show the stance and look from a distance. It is not because the car wasn't running at this point. This picture was taken when I got to Arizona and stopped to look out over the beautiful red rocks of Sedona. At that particular point in time the car had an engine in it and ran very well.

Rear tires brand new with less than 300 miles on them

Rear rims have been drilled twice... I'm told it doesn't effect strength of the wheel. Engine out, wheel gap not really that much.
Minor Front Damage
| | | |
| --- | --- | --- |
| Showing front spidering - very exaggerated by the camera flash | Showing how it looks to your eye vs a camera. | Showing from a few feet away. |
| Bottom scuff and 2 small 1.5 cracks. Again the spidering is exaggerated by the flash. Some sanding and normal paint prep would cover all this. | Showing it is not very visible from above ground level. | Showing the inside of the scuffed area. This could very easily be repaired/reinforced back to perfect. |
| | | | | |
| --- | --- | --- | --- | --- |
| What it looks like now. | What it looked like with an engine. | Underneath while I was removing the engine | Above while I was removing the engine. | Front compartment. A carpet kit would be nice eh? |
Case DOES NOT come with the car but could be sold to the buyer for $350. - The cost of the machine work. :(
Engine case prepped for 94mm bores

Clearanced for 84mm crank.

Other half

Other half

Parts that WILL go with the car. Parts of the stock 1600 dual port that I removed. It does have a compufire conversion. I'm unsure of what distributor it has... Clutch disc I think has oil saturation. Everything else seems fine. I don't know the condition of the heads. The flywheel looks ok to me. Wires are new. Alternator worked fine. I'm pretty sure its stock German tin and it fit together perfectly before I removed the engine
Showing the access hole I cut to get to the shift rod bushing.

Inside the tunnel... NOT STOCK VW PAN.

Cross bracing in the tunnel.

Close-up of shift bushing area.

Interior pic.

Interior Picture after wire wheeling the pan, spraying rust converter/sealer, and coating the entire interior in a dry/non-rubberized truck bed liner spray.

Showing interior after spray again. Inner doors and hinges are now also black.

Gauges and a glimpse at the steering wheel.
Current Pictures!!
(Taken 8-7-05)
(And New Videos:)
All these pictures should show everything about the car. In addition I would like to say I love this car and I wish I would win the lottery and be able to afford to do what I want to do with my 914 AND what I want to do with my speedster. But, unfortunately, I am simply a 24 year old banker and I do not make loads and loads of dough yet.
Notes.
1. Yes, I do have the bumpers for the car. I took them off because mounting brackets need fabricated to mount them sturdily.
2. The car has a NY issued VIN and was titled there and in Nebraska as an 89 Composite. Your states may vary on title and licensing. I don't know all the laws of all the states. I had no problem in Nebraska titling it as they do not require emissions on anything. I did not try to get a new title or license for it in AZ because I knew I wanted to pull the motor before my Nebraska tags expired. I've been told that in AZ the car would need to pass emissions for an 89 and I've also been told I might be able to title it as a 59 Porsche. I don't know who was correct.
3. The car is well built but needs a little TLC - I would have loved to bring it up to my standards completely but my 914 has taken my heart away from it. I do love the car though and will most definitely buy another someday after my 914 is done.
4. All the electrical in the car worked fine before I took out the engine. All the gauges worked. The wipers work slowly. Everything worked.
5. The front brakes are upgraded to discs. The wheels are 5 lug via conversion. I think they are Chevy five lug but might be Porsche. I never measured.
6. The rear brakes might need shoes or I more likely I just didn't know what I was doing when trying to adjust them up. The car still stops GREAT!
7. The master cylinder is a new dual reservoir. (super beetle?)
8. The shifter shaft bushing in the tunnel and the shift coupler bushing are new. Shifts tight... very short.
What the car needs to drive:
Engine -That's ALL IT NEEDS TO DRIVE now!
Seats reinstalled --- EDIT: Drivers done. Passenger needs new tracks.
Pedal cluster installed. ----- EDIT: I went to install them today but I need to clean out the threads in the tunnel before I can bolt it in.
What the car wants: (needs to be to be up to my standards of nice)
Turnkey 2275 Engine with Fuel injection
A full carpet kit, new tonnau and convertible top.
Full rubber seal kit.
Front rash fixed and prep and paint the whole car a beautiful deep blue color... (Drivers door is not as glossy as the rest of the gel coat - it looks like someone might have started to paint prep then decided to try to buff back to shiny.) Also fill antennae hole (.5") in top of passenger side front fender.
Rear breaks checked out.
What caused the scuff... Damn curbs... they jump out of nowhere... but good thing I didn't find ROCK!.
Why I'm selling it. :) 914 wants a 350hp Subaru turbo...

Questions - email snflupigus@hotmail.com